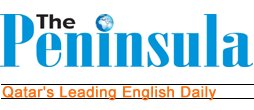 French play delights audience
Source ::: The Peninsula/ BY JOYCE CABAÑO

DOHA: Thunderous applause and a standing ovation greeted the actors and actress of the play "Le Tour Du Monde en 80 Jours (Around The World in 80 Days)" after their performance at the Qatar National Theatre last night.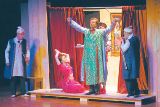 A scene from the play Le Tour Du Monde en 80 Jours (Around The World In 80 Days), performed at the Qatar National theatre Last Night. Shaival Dalal
The play, which stars four actors and one actress — Stéphane Roux, Eric Gueho, Christophe de Mareul, Nicolas Tarrin and Anaïs Harte — is a lively and mostly winning production that made Jules Verne's adventure tale come alive onstage. It was complete with an elephant, steamboats, trains and a cast of more than 30 characters using only a few props and the five actors, a couple of inventive sound artists and some old-fashioned ingenuity.
The story is set in 1872, where Philéas Fogg, played by Roux, attempts to circumnavigate the globe in 80 days, because of a bet he made for 200,000 pounds, accompanied by his servant Passepartout, played by Gueho. Both encounter diverse characters during their journey.
Repetition and humour has added some twists to the play, with a lot of comic accents and mispronunciations thrown in with slapstick, which made the audience erupt in laughter every few minutes.
The play, produced by the Sébastien Azzopardi company, is summer entertainment that revels in simple theatrical artifice with relatively inexpensive effects and no-tech perfection. Like, for instance, for a train scene, the actors merely sit on chairs and sway in unison to chugging noises.
"This was presented in Paris, France, for four years and it was a huge success," said Roux, who has been performing for around 15 years. Roux said he joined the Sébastien Azzopardi company three years ago.
De Mareul, who played Fix, said he and the other actors all loved performing in the play. He and Roux said in an interview that this was the first time they had performed in the country and the first time that the production was presented here.
Japanese Ambassador Yukio Kitazume and his wife Hiroko, Hungarian Ambassador Laszlo Szabo, German Ambassador Dr Dirk Baumgartner, and the ambassadors of Belgium and Romania attended the show, which was organised by the French Embassy.
THE PENINSULA - 5/15/2009