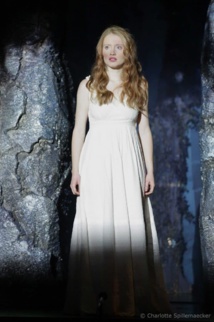 When we arrived we heard screams from those in the theatre waiting to see the play. It was due to the actors dressed up in scary costumes who circulated in the theatre.They did not harm the people but the people were scared by their costumes and actions.
The actors
and their roles are as follow:
Sébastien AZZOPARD ( Malo)
Alyzée COSTES (Alice et Nina)
Cécile BEAUDOUX (Céline)
Marguerite DABRIN (Chloé et Rosalie)
Nicolas MARTINEZ (Alex)
Delphin LACROIX (Victor)
Marie-Bénédicte ROY (La Vieille)
and Joséphine RIOLI Romain TOMAS Mehdi VIGIER
As the play begins we see a man and woman depicting having sex. Then the man tells the young lady that he will leave his wife that very night and return to her. He goes home and to his surprise his wife tells him that after several years of trying she is pregnant. Later returns to tell the young girl he can not leave his wife. She throws herself in front of his vehicle and he acidentally kills her. The audience is surprised and sad.
Then the drama begins. Alice's sister comes to ask where her sister is not knowing she was killed.
The most interesting thing about this play is not the story but the visual effects which are superb as are the sets for the scenery; From appearance of La Dame Blanche, the white lady who warns us to behave the haze of the forrest and the appearance of rain which we actually feel, we are enchanted. We see the vehicle in the forrest. We feel badly for the death and watch as the spirit of La Dame Blanche enchants us as she appears several times in the play.
The music adds to the drama.
The gardener and his mother add to the thrill. His mother acts crazy and the gardener is mentally ill.
The actors related well with the audience and even ran into the theatre where the audience was sitting.
The scary characters also were circulating in the theatre.
Young and not so young – all enjoyed this play.
Even those who do not understand French will like this play.
It is playing until January 8, 2018.
By Jane Rosenstein - November 22, 2017 -
Veterans Today